- Simple, audio-free unit
- Two 10 amp relay outputs
- Triggerable
For scenes or props without the need for audio, the PicoBoo JR is our most economical two output controller.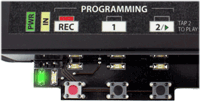 Real-Time Programming
All programming of outputs and sounds are done in real-time using the programming buttons on the PicoBoo. Tap record, animate the outputs, then tap record again to save. It's so easy!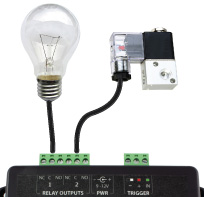 Relay Outputs
The PicoBoo JR has two 10 amp relay outputs brought out to a pluggable terminal block. Two relays give the flexibility to control different voltages, maybe one for a light, and one for a 12 volt solenoid. Each relay also has both a normally-open and normally-closed contact.
Up to 2 minutes of animation at 30 frames per second can be recorded.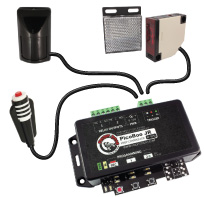 Trigger Input
The PicoBoo JR has a trigger input that can be used to trigger the scare automatically. This is most commonly used with PIR motion sensors, beam sensors, hand triggers, or pressure mats. If you want the PicoBoo to loop your scare indefinitely, connect the - and IN trigger pins with a small wire jumper.
Our selection of triggers can be seen here.

Write-Protection
Just like its PicoBoo brothers, the PicoBoo JR has a write protection mechanism that helps prevent accidental or unwanted program changes.
More Information

| | |
| --- | --- |
| Output Capacity | 10 Amps Each, 120VAC Max. |
| Output Type | Relays |
| Outputs | 2 |
| Inputs | 1 |
| Supply Current | 250mA |
| Supply Voltage | 9-12 VDC |