- MP3 Audio
- 35 watt Class D amplifier
- Four 10 amp relay outputs
- Two Inputs
The PicoBoo MP3 is also available in a
Two Output
version.
The PicoBoo MP3 is the newest addition to our PicoBoo family. We've combined the simple programming of a PicoBoo with the superb sound quality of our BooBoxes. It's a PicoBoo with MP3 quality audio!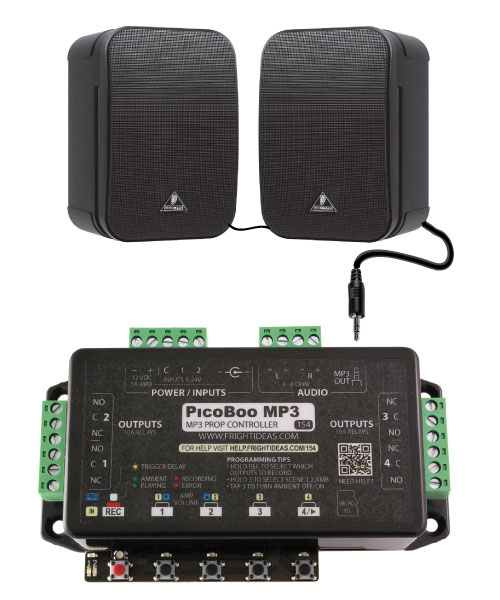 Audio
The PicoBoo MP3 uses the same MP3 decoder as our BooBoxes. No need to play sounds into these PicoBoos, just copy the files to a MicroSD card. An unlimited number of scare sounds can be used to mix things up.
Ambient audio tracks can be synced with ambient animation, or just fill the SD card with scary audio and it'll play that while it sits idle.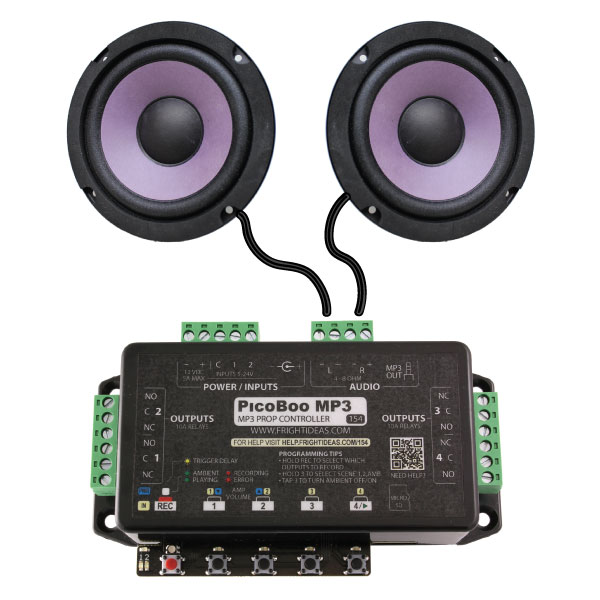 Amplifier
The PicoBoo MP3 includes a powerful 35 watt class D Amplifier. It gets loud! The amplifier's volume is adjusted by pressing the 1 and 2 buttons during playback - no need to find a small screw driver and flashlight to adjust the volume. The amp volume can be capped so it doesn't blow smaller speakers. It can also be locked if your staff are turning it down or off when they shouldn't be.
The amplifier's full output power can only be realized with two 4 ohm speakers and a power supply of at least 3 amps. The standard 1 Amp power supply is surprisingly loud, but you may notice distortion at higher volumes.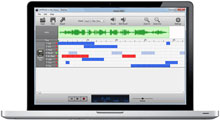 Director Compatible
This PicoBoo MP3 can also be programmed using our free Director software. Create even the most complex scenes with just your mouse and keyboard. Director will save your show to the PicoBoo MP3's MicroSD card.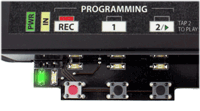 Real-Time Programming
The PicoBoo MP3 can be easily programmed using the on-board buttons. Program all the outputs at once, or layer them up one at a time for more complicated scenes. There's no confusing button sequences to memorize or manuals to study. One button for each output keeps things straight forward, simply press record and start animating.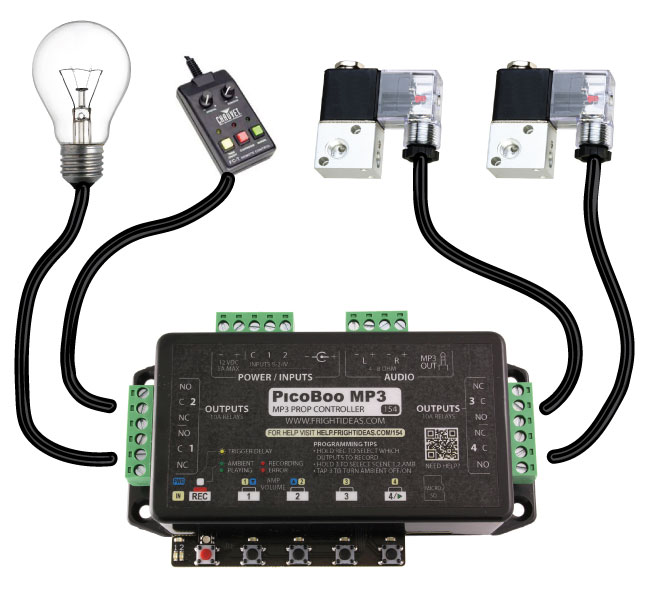 Relay Outputs
The PicoBoo MP3 has four 10 amp relay outputs brought out to two pluggable terminal blocks. Each of the outputs has both a normally-open and normally-closed contact, ensuring you will be able to control anything.
Animation is recorded at 30 frames per second. Up to 30 minutes can be recorded in each of the scenes. The ambient and trigger scenes can each sequence through up to 8 scenes, allowing for different animation on each trigger.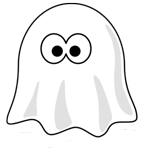 Ambient Animation
The PicoBoo MP3 doesn't just play sounds during ambient mode, it can also animate the outputs while the prop is waiting to be triggered. Program this mode with what you want the patrons to see and hear as they approach the scare - a little foreshadowing of the terror to come.
Trigger Inputs
The PicoBoo MP3 has two trigger inputs. The second input can be used to trigger an alternate scene, or as a stop or reset button. Both inputs can be set to single-shot mode, which prevents looping if the trigger is kept on. This is handy if a beam sensor goes out of alignment. They can also be set to a Run Once mode. This makes sure they can only run their scene once until the other input is triggered. This is really handy for Escape Rooms that want the scene to run only once until a reset button is pressed.
Our selection of triggers can be seen here.

Write-Protection
The PicoBoo MP3 has a write protection mechanism that helps prevent accidental or unwanted program changes.
More Information

| | |
| --- | --- |
| Amplifier | 35 watt Class D |
| Audio Storage | SD Card |
| Audio Quality | MP3 |
| Output Type | Relays |
| Outputs | 4 |
| Inputs | 2 |
| Supply Current | 0.1A to 3A |
| Supply Voltage | 9-12 VDC |