Mount controllers and relays boards neatly or to DIN rail using SnapTrack.
Are you a neat freak? Tired of spending so much time mounting controls so they look straight and square? Use SnapTrack!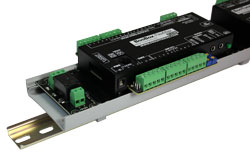 How's it Work?
All our "Boo" products are designed to snap easily into standard 2.75" SnapTrack. Simply mount the track and then snap in your controls. SnapTrack can be screwed directly to a flat surface or mounted to DIN Rail if you also purchase the clips.
Available in 4", 6", 12", and 24" lengths from us, or 48" lengths from other vendors (see below). It can be easily cut to shorter lengths with a mitre saw.
Note: The metal DIN rail shown in some pictures above is not included. You can purchase it from one of the vendors listed below.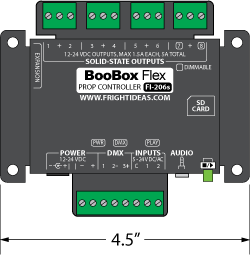 What Length?
See the list below for the widths of our SnapTrack-compatible products. Add up the inches to see what length you need.
Flex 206s - 4.5 inches
FlexMax 216s - 7 inches
Flex 206 (no 's' model) - 4.1 inches
FlexMax 216 (no 's' model) - 6.5 inches
PicoBoo Max - 7 inches
BooTunes - 4.1 inches (4 inch snaptrack works fine)
BooTunes Amped - 4.1 inches (4 inch snaptrack works fine)
Single Relay Board - 1.15 inches
Quad Relay Board - 2.9 inches