- Powers NeoPixels or a Servo
- Works with 2018 EscapeKeeper Only
This board will allow you to connect NeoPixels™ or an RC Servo to your 2018 EscapeKeeper.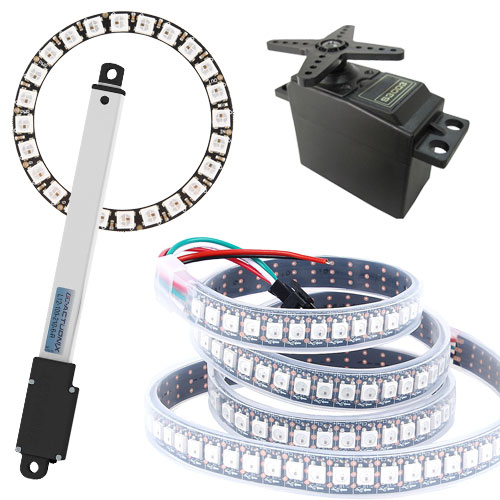 Power Injection
Pixel strips and RC Servos can require a lot of power at a voltage lower than the EscapeKeeper can provide. This board, coupled with an external power supply, will sit between the EscapeKeeper and your servo or LEDs to provide this power.
If you are using an LED strip, it must be of the WS2812B or SK6812 variety. These are commonly called NeoPixels™ by Adafruit.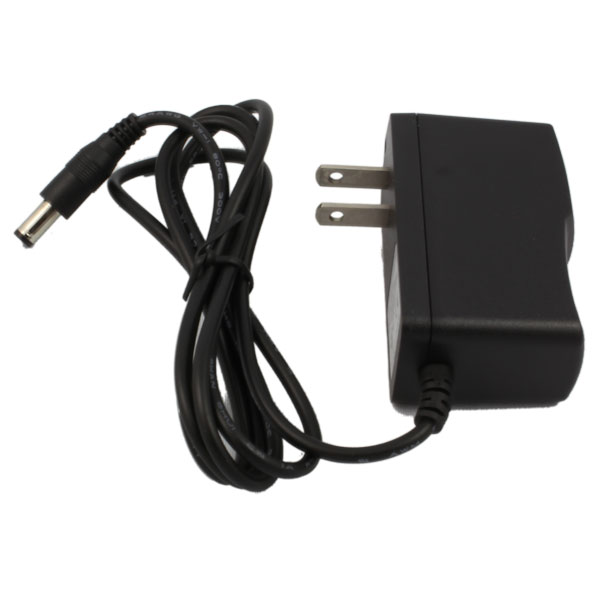 Power Supply
This board requires a 5 or 6 volt power supply. Which voltage and current you choose depends on what you'll be driving. NeoPixels must always be driven at 5 volts. They take up to 60mA each when all three colors are on. Servos can be 5 or 6 volts depending on your requirements and the servo you choose. The current they require varies dramatically depending on the size of the servo and how much load it's under. See the list below for some rough estimates.
Power Supply Examples:
Up to 30 NeoPixels - A 5 Volt 2 Amp power supply.
Up to 80 NeoPixels - A 5 Volt 5 Amp power supply.
Standard Servo - A 5 Volt 2 Amp power supply.
Large Servo - A 6 Volt 5 Amp power supply.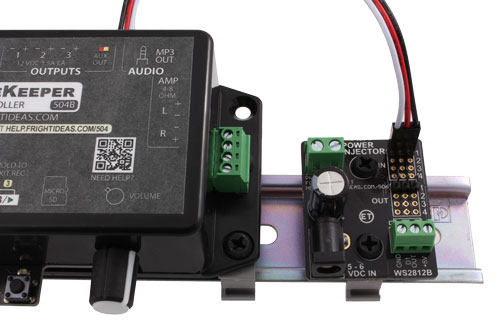 DIN Rail Mountable
The EscapeKeeper and its accessory boards are DIN rail mountable for easy installation.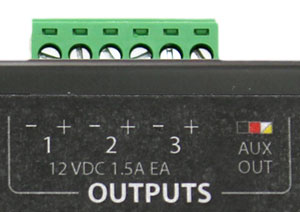 Compatibilty
This accessory will only work the 2018 model EscapeKeeper as it requires the new AUX output. As shown in the image, you can see this output next to output 3 on the EscapeKeeper. It will not work with the EscapeKeeper JR or FlexMax.
You may need to update your firmware to get the new Patch Panel puzzle mode. Your firmware must be at v2.1 or above. You can always get the latest firmware at help.frightideas.com.
Downloads and Documentation